A Masterful Life
If you want to get beyond living from struggle to struggle, want to be free from distraction and move forward to achieve your goals, then, this site can help you become a masterful being.
Turn Trouble Into Benefit
My name is Farrell North and I've spent my life creating something new out of the unknown, saying, "I can do that!" and then, having to learn how to do it.
That taught me to see the big picture. It taught me to pay attention to details. Through trial an error, I learned to become comfortable with the unknown and direct it in a good direction, to face challenge and turn it to my advantage.
Mastery became my secret power. I know you can do that too!

You can learn the principles encoded in this living symbol to achieve your personal best. Discover the secrets of personal, performance excellence that lead to creative success. Open the door to wealth and well being.
It's based on this simple premise: life is an experiment to improve ourselves as we face risk.
Repeat this experiment again and again and you become better at anything you choose to do.
You become better at adapting to ongoing change,
Get Better at Getting Better
Leadershipretreat is your personal training ground to learn to flow through the unknown future. You'll find  ancient and modern ideas to help you grow an excellent, satisfying life.
Practicing these concepts will show you that you are the pivot of your fate. You will learn that you may not control what events come your way but you can always direct your response to them.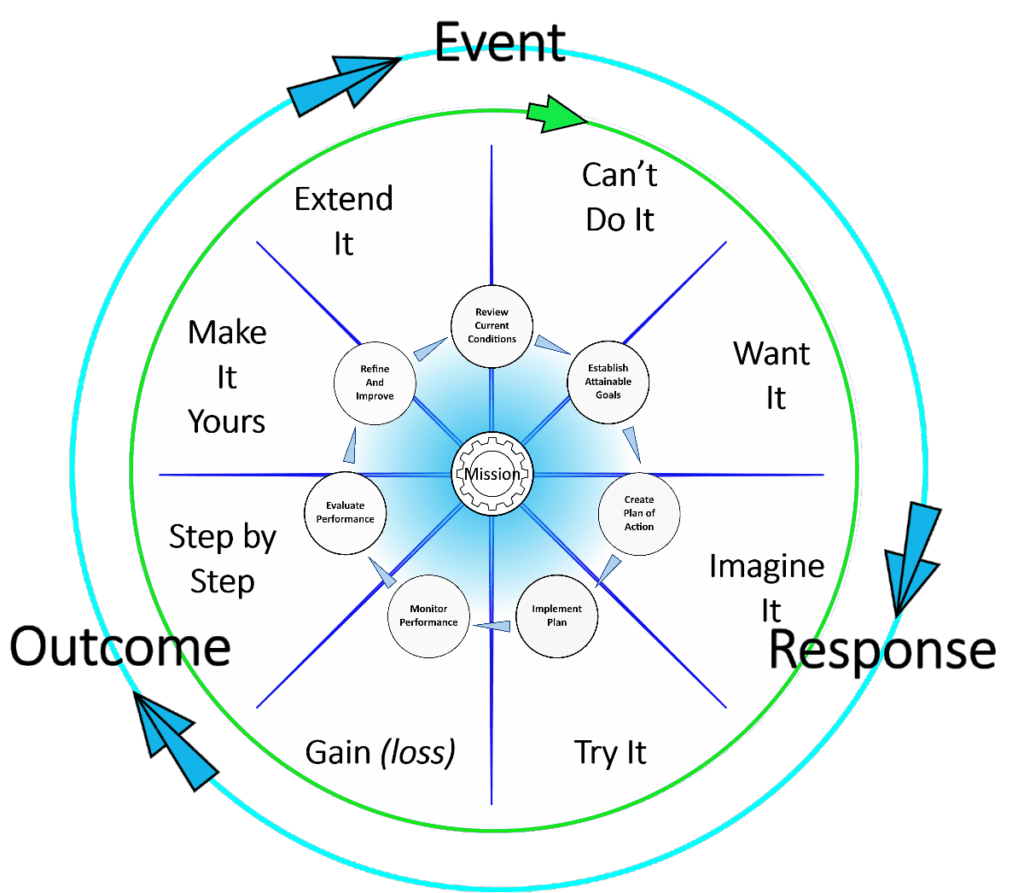 This self-direction affects everything in your life. At Leadershipretreat you learn to manage your response to everything that happens. Here, you:
Learn a powerful, creative concept,
Experiment with it in issues that are important to you.
Reflect upon your experience and what your exercise revealed.
Put it to work to change your life in a powerful and direct way.
As you practice these experiments, you perfect the habit of success. You'll not only get better at anything you practice, you'll get better at getting better.  Click on this link and open a path of least resistance to self master your success.

Your Personal Leadership Lab
Not everyone will choose to do this. Most will bounce off this site in less than 20 seconds. You're one of a very few who care about personal growth and success.
So, don't lose this site. Bookmark it. Return and learn whenever it works for you. Share this with family, friends, and co-workers. This door is always open.

Step back from navigating chaos. Make space to explore how you succeed in your own life. You can read some samples below this post. Click on something that seems useful. If they're helpful, there's much more inside.

Try the experiment. You're designed to become masterful and live a satisfying, creative life and I'm here to help that happen. Click this button for access to your Creator's Personal Growth Lab.  You will love your growing mastery!